Posted by Matthew Marks on 19th Dec 2020
Exoracing: Christmas update
We have had an incredibly busy 2020 even with all the obstacles that came with it such as the COVID-19 virus which brought on the UK nationwide lockdown. Due to all our loyal customers, we were able to expand massively from offering brand new products, creating new packaging and even an open test via social media of our billet triple gauge holders which we will get into more detail about shortly. Over the Christmas period we will be shut on the 24th dec, 25th dec, 31st dec and 1st Jan but will be still posting parcels out on the days in between.
Billet Gauge holder testing
At the beginning of the year, we released our billet triple gauge holders for the Civic EK and h
ave just added a brand-new purple addition to the product line. Once we received these back from anodising, we thought about the fact that it could well fit many other chassis so posted to all our social media channels asking for you to test them for us. We also gave every single person who helped a ltd edition Christmas boostasaurus t shirt for helping!
We have now at the time of writing confirmed that it will fit the Honda Civic EG / EK / EP3 and Honda Integra DC2. If you are reading this and have a single din car which we have not listed but want to help us test fitment with, please get in touch!
Widebody Turbo civic mapping
At the beginning of this month with all the upgrades that we have
been doing to the turbo civic it was ready to take it to mapping! We went to perfect touch in Hertfordshire and had Romain from Racecal LTD map the car for us. Racecal specialise in the calibration of engine management systems across a variety of disciplines in the Motorsport sector, so was the perfect person for what needed. Not only this, but he has been mapping turbo honda engines for more than a decade! He did an incredible job as always, but we encountered a few slight issues with the car to stop it making more power.
Our wastegate ended up creeping at around 1.2bar, and we were not getting enough fuel to the rail. We have now decided to run a full swirl pot setup in the car (we will be doing a YouTube video on this) and need to go with a bigger wastegate and run a better angle from the turbo manifold as the exhaust gas is not flowing to the wastegate correctly to control the boost level we need. Even with these few slight issues it still made a healthy 460whp which we are more than happy with for the time being! If you do not already follow us on YouTube
please follow this link as we will be posting various videos from progression of the turbo civic to installation guides.
New Brands added
As many of you have probably noticed we have been adding some new brands to the website. We can now supply a huge range of brands and are slowly getting them all listed to the website.
First up were ARP who you all probably know for being one of the largest automotive fastener manufacturers in the industry. They product nearly every bolt you could possibly need in your engine which range from OEM to high powered drag and track applications.
The second new brand we have added are Turbosmart who are at the forefront of wastegates and blow off valves for nearly every application to keep your boost under control.
Lastly was Speedfactory who are renowned for having the fastest FWD drag Honda civic on the planet which ran an incredible 7.477 second quarter mile! They are also known for their high-quality radiators, intercoolers and drag racing products.
Black Friday / Brand new NSX t-shirt design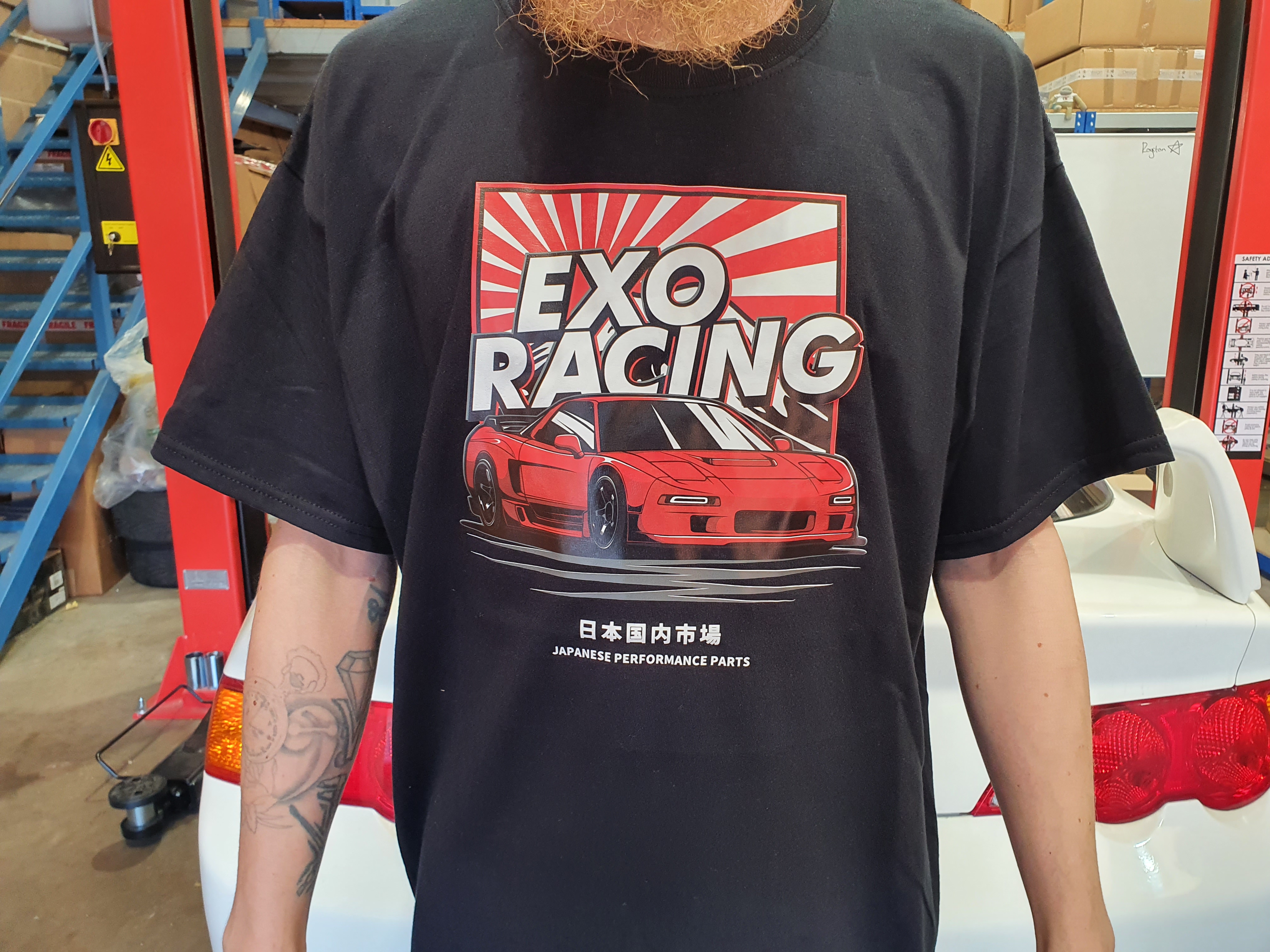 This years black Friday sale was absolutely mind blowing with the number of orders we managed to send out.
We ran a promotion where we were giving out our brand-new t shirt design for FREE for orders over £100 and a FREE Exoracing hoodie over £200. You guys certainly did not disappoint, and we managed to deplete our entire t shirt and hoodie stock in a record 5 days!
We all worked many hours overtime to get the orders out and guide everyone in the right direction for their performance parts! So, thank you all for placing an order or sharing our promotions on social media you have helped us grow!
We now offer finance
A few weeks ago, we teamed up with Klarna which means we can now offer finance on all purchases over £30. Once you get to the checkout there will now be added options to pay with, including pay in 30 days or pay in 3 instalments. These will make the larger purchases such as coilovers or big brake kits much easier to manage so you can enjoy your car more and worry about the upfront cost less. We have 2 finance options available:
Pay in 30 days
Make your purchase today and start enjoying what you have ordered right away. Pay up to 30 days after shipping and enjoy payment empowerment and peace of mind. No interest. No fees.
Pay in 3 instalments
Split your purchase into three equal payments so you can spread the cost of your purchase over time. Enter the credit or debit card details of your choice and make automatic payments every 30 days. Your first instalment will be collected when your order is confirmed by the merchant and instalments 2 and 3 are scheduled 30 and 60 days later, respectively. No interest or fees.
Christmas Is here
Our last subject to talk about is the main one everyone is talking about now, Christmas! Normally Christmas is a time to relax but we have loads planned whilst everything is a little quieter from website upgrades to much more. We have just launched a brand-new promotion for all of you to get in the Christmas spirit where we are giving away our Limited edition boostasaurus Christmas t-shirts for free with every order on the website over £100. Make sure you do not miss out as once they are gone, they are gone, never to be printed again!!

Thank you all for the support this year, and if you have purchased anything from us at all or dealt with us this year and could leave a website review for us that would be amazing.